State of New Hampshire Requirements for Smoke and Carbon Monoxide Detectors in Rental Properties

Requirements for Smoke Alarms

MULTI-UNIT DWELLINGS AND RENTAL UNITS

When They Are Required:

Multi-unit dwellings and rental units shall be equipped with automatic fire warning devices. (3)

Locations of Installation:

Smoke alarms shall be installed in the following locations:

(1) On the ceiling or wall outside of each separate sleeping area in the immediate vicinity of the bedrooms.

(2) In each room used for sleeping purposes.

(3) In each story within a dwelling unit, including basements but not including crawl spaces and uninhabitable attics. In dwellings or dwelling units with split-levels and without an intervening door between the adjacent levels, a smoke alarm installed on the upper level shall suffice for the adjacent lower level provided that the lower level is less than one full story below the upper level. (4)

Powering the Detectors:

New and Existing Construction:

All automatic fire warning devices in multi-unit dwellings, and all rental units shall be powered by the house electrical service (hardwired.) (5)

Required Interconnection of the Detectors:

New Construction and Existing Construction:

When more than one smoke alarm is required to be installed within an individual dwelling unit or sleeping unit the smoke alarms shall be interconnected in such a manner that the activation of one alarm will activate all of the alarms in the individual unit. The alarm shall be clearly audible in all bedrooms with all intervening doors closed and also taking into account any ambient noise. Interconnection within the unit is required, not within the building. Wireless interconnection systems are permitted. (4) (6)

Requirements for Carbon Monoxide Detectors (CMD)

A CMD must be installed in every rental unit. A rental unit is defined as:

"any residential unit in a building or single family dwelling which provides permanent or transient living facilities for one or more persons, which is occupied by tenants on a rental basis. This term shall include but not be limited to: hotels, motels, dormitories, apartments, duplex units, rooms rented out of the home of another, and single family dwellings, so long as they are rented."

Locations

NFPA 720, Standard for the Installation of Carbon Monoxide Detection and Warning Equipment and The International Residential Code address the location of carbon monoxide detectors. Detectors should be installed outside of each separate sleeping area in the immediate area of the bedrooms.

Please contact Newbury Fire Rescue newburyfire@gmail.comfor additional information on the requirements for smoke and carbon monoxide detectors.
---
---
Newbury Fire Alarm Ordinance
The Town of Newbury Alarm Ordinance requires all homeowners and businesses with fire and security alarms that are transmitted to an alarm company central station central station to obtain an alarm permit from the Town of Newbury. The ordinance also specifies that alarm companies that monitor these alarms be permitted by the town. The permit requires complete contact information including local contacts (key holders) for out of town owners, this information is available to dispatch and the fire department so quick access can be gained to the building by someone who has a key in the event of an alarm. The ordinance also specifies that any property that has more than three false alarms in a 12 month period be assessed a fine. The amount of the fine increases for additional alarms once the minimum has been met. Since the ordinance was implemented several years ago, the number of false alarms that Newbury Fire rescue has responded to has significantly been reduced. The permit application process is easy with an on-line application on this website by clicking "Alarm Application" in the green box this page. The Safety Ordinance page provides complete information on the Newbury Alarm Ordinance. You may also update contact information on the website form. There is no charge for the fire alarm permit.
---
Alarm Companies Need Permit to Install and Monitor Fire and Security Alarms in Newbury
Alarm companies that instll, service and monitor fire and security alarms at residences and businesses in the town of Newbury must have a permit from the Newbury Police and Fire Departments.There is no fee for the permit. The Newbury Alarm ordinance requires the permiting of security and fire alarms monitored by an alarm company central station. Under the ordinance, the company that installes, services or monitors an alarm must apply for an Alarm Company Permit.Under the ordinance, unpermitted alarm companies operating in Newbury are subject to a $100 fine.
Alarm Companies installing alarm systems must inform their customers of the town requirement for an alarm permit and that they can apply on the Newbury Fire department website. The alarm company must also notify the Newbury Fire Department in writing of the owner's name and address of the new alarm installation. The notification can be by fax (603)763-5379, completing the on-line form, or by email newburyfire@gmail.com
---
The Application for a Newbury Alarm Permit is now on line
There are now two ways to apply for a fire and security alarm permit in Newbury. The permit application can be completed online (click below in the Online Permit Application) and the application will be electronically submitted to the Town of Newbury. You will be contacted when the permit is issued. As in the past, you can still download and print the permit the application in a pdf file and fax to the Newbury Fire Department or drop off at the police department or town office during normal business hours. Please note that if you change alarm companies, a new alarm permit is required. Alarm permits can only be issued for alarm companies that are permitted by the Town of Newbury, applicants should verify that the alarm company has an Alarm Company Permit from the town.
The on line form can also be used to update your contact information, such as cell and work phone numbers and the names of local contacts that have access to your home if you cannot be reached. If your alarm permit is over two years old, you may need to update your information so that we have the correct phone numbers in an emergency.
The Town of Newbury Alarm Ordinance requires a permit for all business and residential central station fire and security alarms.
The Town of Newbury will access fines for central station alarm systems that do not have the alarm permits and for alarm systems that transmit multiple false alarms. Please see a summary of the ordinance on the Ordinance Page
Click here to fill out a Fire Alarm Permit online
Click here to download and print the Fire Alarm Permit Application The completed permit applications can be faxed to the Newbury Fire Department at 763-5379
---
Fire Prevention and Safety Information
---
Wood Stove and Foreplace Fire Safety
Fireplace
Keep a glass or metal screen in front of the fireplace to prevent embers or sparks jumping out.
Do not burn paper in your fireplace.
Put the fire out before you go to sleep or leave your home.
Put ashes in a metal container with a lid, outside, at least 3 feet from your home.

Wood Stove
Make sure your wood stove is 3 feet from anything that can burn.
Do not burn paper in your wood stove.
Put the fire out before you go to sleep or leave your home.
Have your chimney inspected and cleaned each year by a professional.
Newbury Fire Deparatment Apparatus
Newbury Engine 4, is a Multipurpose Workhorse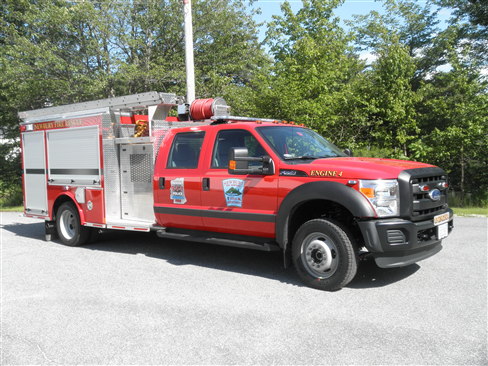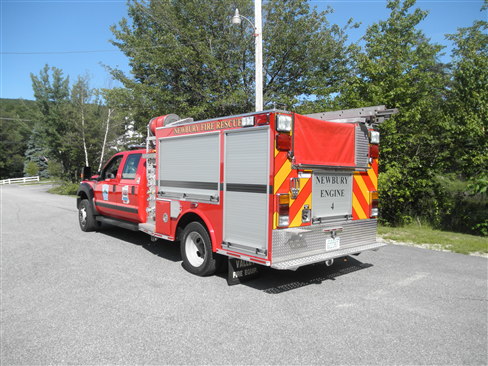 As trucks go Engine 4 is small, built on a Ford F550 4-wheel drive chassis. The truck has a 250 gallons per minute compressed air foam pump and the truck's small size and 4WD lets it get into places that the large engines can't access, especially in winter. The pump and ladders are just a part of the truck's capabilities.
Engine 4 carries a full medical kit and AED and is responds to medical calls when the rescue is on another call. This truck carry's the department's rescue equipment, such as the Jaws of Life and blocking and stabilizing equipment. Engine 4 carries gas meters for testing for carbon monoxide and other hazardous materials.
Other equipment includes a chain saw, generator & lights and various hand tools. The truck responds on fire calls, motor vehicle collisions, rescues, wires down, hazardous materials incidents, medical calls, and any other calls that may come in.
---
---
Newbury Street Numbering Ordinance
Please keep in mind that the Town of Newbury Street Numbering Ordinance requires that every home and business in Newbury has a street address posted that is visible from the road. The reason for the ordinance was to assure that emergency responders would be able to locate a property in the event of a medical emergency, fire, or other emergency. This is a good time to take a look at your property from the road to confirm that the number can be seen. If you have difficulty, chances are that emergency responders will not see the address number and be delayed. "Help us to find you so we can help you in an emergency"
---
Knox Box
Newbury Fire & Rescue Department Knox Box Program
If you own a property in Newbury, are not always available to answer a call for a fire alarm at your property and do not have someone in the area that has a key to provide the Newbury Fire Department with access to your property. please consider installing a Knox Box.
The Newbury Fire & Rescue Department is part of the "Knox Box" program for emergency building access. A Knox Box is a secure key box containing building keys affixed to the outside of a business or home. If a fire alarm is received or there is a report of other emergency when the building us unoccupied, the fire department utilizes special fire department key, that will open the Knox Box containing the building keys. This eliminates the need to break down doors or windows to enter the building or presume there is no fire when nothing is visible from the outside. The ability to thoroughly inspect a building will enable the responders to locate other problems such as electrical hazards, heating problems and gas and water leaks set off an alarm and could lead to costly other problems if not identified. The Knox Box system is only used to enter a building in the event of a fire department emergency response to an alarm activation or report of an emergency at the location.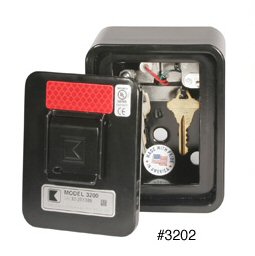 .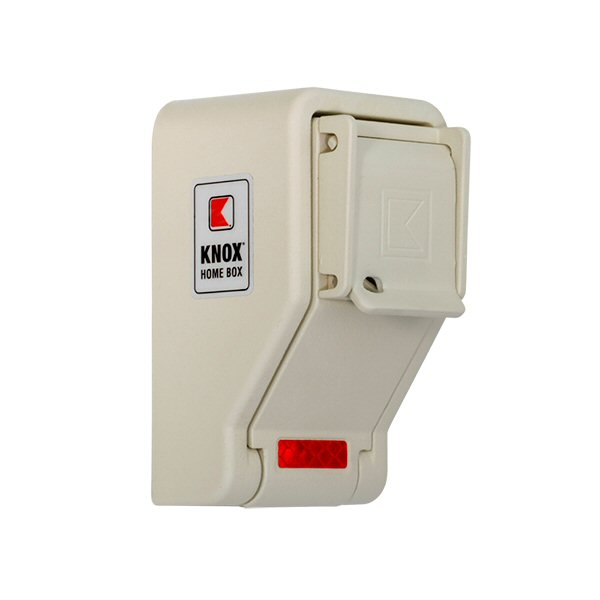 The fire department key is secured in special Knox Box on the truck that can only be opened by authorized personnel and all openings of the box are electronically recorded. Knox Boxes keyed to the Newbury system are purchased by the building owner from the Knox Box company and are installed in accordance with fire department specifications. Knox Boxes are generally installed at locations with Town of Newbury permitted central station fire alarm systems, where the Newbury Police and Fire Departments have emergency contact information. Building owners or their authorized emergency contacts are notified of every alarm notification and when the Knox Box is used to provide emergency personnel with access to the building. Emergency contact Information provided is kept confidential by the police and fire departments.
New commercial, multi-family (4+), seasonal residences and gated properties are required to have a Knox Box as part of the building permit process.
Information on the Knox Box system is available on the company's website www.knoxbox.com, For residential and small business use the Knox Residential 1650 Series surface mount box is used. Other models are available for larger businesses where multiple access keys may be needed, for new construction and other special requirements. Knox Boxes keted to the Newbury Fire Department system can be ordered on line from the Knox Box company Knoxbox.com or the new Knox Home Box website for residential boxes and the Newbury Fire Department will be notified of your order and install the box when it is received. If you have questions, please contact the department at newburyfire@gmail.com
---
Get the NH Alerts App
NH Alerts is a free service provided by the New Hampshire Department of Safety Division of Homeland Security and Emergency Management. Emergency and community messages are initiated by authorized public safety officials at the State level and severe weather warnings are initiated directly by the National Weather Service.

The app delivers notifications to subscribers within a specific geographic area. If you are not receiving alerts through this application, you are not currently in an area identified with a potential public safety threat by the New Hampshire Department of Safety Division of Homeland Security and Emergency Management.

NH Alerts is used by New Hampshire public safety officials to inform and protect State residents and visitors. The NH Alerts app is free and available at the App Store and Google Play. No registration is required. Users are encouraged to enable their GPS services so the app can deliver location-based multimedia alerts to subscribers within a specific geographic area. Users may visit the NH Alerts app settings to select the alerts they would like to receive.

The app delivers notifications to subscribers within a specific geographic area. If you are not receiving alerts through this application, you are not currently in an area identified with a potential public safety threat by the New Hampshire Department of Safety Division of Homeland Security and Emergency Management.

Click here to go to the Ready NH.Gov NH Alerts website and to download the app
---
Code Red
The Town of Newbury and five other towns in our area have contracted with the CodeRED reverse emergency notification system, which allows the town to call you in an emergency.
If you received telephone calls or voicemail messages from Code Red in the past, you are registered in the Code Red system and no additional action is needed. You will automatically receive future Code red messages.
The current CodeRED database comprises commercially-available phone numbers (such as those provided on credit applications) and numbers added directly by residents of the six communities. To ensure that your phone number (including cell phone) is in the database, go to your Town's website or click here to access the CodeRED Emergency Notification Network update form
Required information includes a street address (physical address, no P.O. boxes) for location purposes and at least a primary phone number. Additional phone numbers, email and text addresses may also be entered. Even if you have an unlisted phone number, you can safely register your phone number in the CodeRED database; the information will not be sold nor will it be used for any purpose other than emergency contact from the town.
---
Fire Safety Information
---