---
Newbury Fire Rescue now on Facebook
---
Newbury Fire Department Information
---
New Members Wanted
The Newbury Fire Department is looking for firefighters and EMTs. If you are interested in becomming part of the Newbury Fire Department, please stop by at the fire station any Tuesday evening and fill out an Application or click here to download an application
---
NEW: Year to date Newbury Fire Rescue Response Summary

---
4th of July Fireworks
The best way to enjoy the 4th of July fireworks is to attend one of the professional fireworks shows that are held in the area. There will be a show in Sunapee at Sunapee Harbor on July 3, and if you can wait a week, the Old Home Day fireworks spectacular in Newbury Harbor on July 9, starting at 9:30. Newbury Fire Rescue oversees the Newbury fireworks display and assists the Sunapee Fire Department with their display. If you must have fireworks on your property, remember that a fireworks permit is required from the fire department. See Fireworks Permit section on this page for information on applying for a fireworks permit.
Click here to view NFPA Fireworks Safety Information
---
Celebrate Safely this 4th of July
CONCORD, NH – With the summer months and the 4th of July quickly approaching, the New Hampshire Department of Safety - Office of the State Fire Marshal would like to encourage each citizen living in, or visiting New Hampshire to "Celebrate Safely" when using Permissible Consumer Fireworks. According to the National Fire Protection Association (NFPA), on Independence Day in a typical year, more fires are reported across the country than any other day, and fireworks account for half of those fires. In 2013, fireworks caused an estimated 15,600 fires nationwide. 14,000 outside fires, 1,400 structure fires and 200 vehicle fires. Those fires resulted in an estimated 30 civilian injuries and $21 million dollars in direct property damage.
On June 24, 2014, the United States Consumer Product Safety Commission (USCPSC) released its annual Fireworks Report. This report highlighted that there were 11,400 firework related injuries treated in hospital emergency rooms in 2013, an increase of 2,700 injuries from what was reported in 2012. 7,400 of the reported injuries occurred during a 30-day period from June 21, 2013 to July 21, 2013.
Burn injuries accounted for an estimated 4,600 injuries, or 62%, while contusions and lacerations accounted for an estimated 1,600 injuries, or 22%. 40% of the people injured by fireworks were under the age of 15. The most common place for an injury is to the head, face, ears or eyes, which account for an estimated 38%. Injuries to the hand are a close second, with an estimated 36%. For children under the 5 years old, sparklers accounted for 79% of the injuries treated in emergency rooms.
There are many ways that you can protect yourself, your family, and your property from unnecessary injury or damage. The safest way to celebrate any holiday or event with fireworks is to attend a public fireworks display sponsored by your local community or other organizations. These displays are set-up and fired by trained, licensed professional pyrotechnicians. These displays are also inspected by public safety officials to ensure that the pyrotechnicians are setting up and firing the display in accordance with local, state, and national standards for safety.
If you intend on celebrating with permissible fireworks (those legal consumer firework devices sold in New Hampshire licensed retail stores), check with your local fire department to ensure that the possession and display of permissible fireworks is permitted in your community. Follow all local ordinances, including ones for noise. Set family boundaries, and only adults 21 years of age or older are legally allowed to purchase, possess, and display permissible fireworks by the state law. Make sure you read all safety information that is provided to you, and/or the information that comes on each device. Also, remember that summer weather conditions make grasses and other types of vegetation dry and vulnerable to fire; be aware of the forest fire weather conditions in your community.
Supervision is paramount in keeping children safe, fireworks should not be readily available to tempt the curiosity of children, and should be stored in a secured location to prohibit their access. Remember, even Sparklers can cause significant injury. The tip of a Sparkler can burn at temperatures above 1,200 degrees. Water boils at 212 degrees, wood burns at 600 degrees, and glass can begin to melt at 900 degrees.
Celebrating safely also involves the "three B's":
"Be Prepared" before lighting fireworks.
Purchase only New Hampshire Permissible Fireworks, available at licensed retail stores throughout the state.
Purchase ONLY the quantity that you will use.
Permissible fireworks can ONLY be displayed on property that you own, or have written permission from the landowner.
Contact your local fire department to check the daily forest fire weather forecast, or if outside burning has been prohibited.
Have a water hose or fire extinguisher nearby in case of an unanticipated fire.
Create a clear level surface to display your permissible fireworks away from things that can burn, or easily ignite.
Call 911 immediately in the event of a fire or medical emergency, don't wait!

"Be Safe" when lighting fireworks.>/p>
Adults 21 years of age or older are the only ones allowed to possess, and display permissible fireworks.
Always wear eye, hearing protection, and gloves.
Always read and follow the safety directions provided on each firework device or package and ask the store for additional information. ~ Light only one device at a time and move away quickly.
Keep all spectators at a safe distance.
Display permissible fireworks only outdoors, away from anything that can burn, or easily ignite.
Be considerate of your neighbors, family pets and the environment. You can be held liable for damage to another's property.

"Be responsible" when finished.
Clean up all debris when you are finished.
Devices that do not fire or discharge once they are lit are very dangerous; if a firework device does not fire or discharge, keep away for at least 15 minutes or more, then ensure that it has been filled with water, or placed in a bucket of water.
Always make sure that unused fireworks, matches and lighters are secured and out of the reach of children.

Please, "Be Prepared", "Be Safe", and "Be Responsible" when using Permissible Consumer Fireworks, and celebrate safely this Fourth of July. To learn more about a community fireworks display near you contact your local fire department for available dates and times. For a list of community restrictions, please visit our website:
---
Emergency Medical Services Week
Newbury Fire Rescue Chief Henry Thomas and Emergency Medical Services Administrator, Wayne Whitford, attended a ceremony at the State House in Concord where Governor Maggie Hassan proclaimed this week Emergency Medical Services week in the State of New Hampshire. The ceremony included officials from the NH Department of Safety Bureau of Emergency Medical Services and recognized three fire departments and two private ambulance services that had participated in a pilot program for a new emergency medical call reporting system that is now in place in New Hampshire.
---
Weekend of Rescue Training
Newbury Fire Rescue personnel spent much of the weekend in mutual aid rescue training with our neighboring towns. On Saturday, Rescue 1 participated with the New London Fire Department and New London Hospital in the response to a simulated active shooter incident at Colby Sawyer College. On Sunday the crew of Boat 1 worked with the Sunapee Fire, Sunapee Police, New London Ambulance and the owners of the MV Mt. Sunapee and MV Kearsarge tour boats in a simulated response to medical emergencies on the passenger boats.
---
Newbury Old Home Day July 9th
Back by popular demand at Newbury Old Home Day on Saturday, July 9 is a friend of all the kids, Smokey the Bear.
Other Old Home Day events at the Safety Services building:
Hot Dogs, hamburgers and cold drinks
Safety Displays, Blood pressure checks by EMS personnel
New New London Hospital Ambulance 4
Touch a truck
Children's Photos with the antique fire truck, 83 Engine 1

There will be a band concert at the gazebo and fireworks over the harbor at 9:30
---
Prepare for Weather Emergencies
The Atlantic Hurricane season started June 1 and runs through November, already this season there have been three named tropical storms. Although there has not been a major hurricane strike the east coast in over ten years and there has not even been a tropical storm impacting the Newbury area since Irene in 2011, we must be prepared for the eventuality that one of these dangerous storms will come our way.
The best resource to prepare for a hurricane or other weather emergency is to visit the ReadyNH.gov website. There you can sign up for NH Alerts to warn you of severe weather headed our way. Information is provided on preparing an emergency kit for your home and a family emergency plan.
---
Annual Award Dinner
Newbury Fire Rescue held their annual awards dinner on, May 14, 2016 ar the Safety Services Building. Invited guests from the Town of Newbury and retired Newbury firefighters joined department members for the annual event. Chief Henry Thomas awarded Lieutenant Nick Bibeau the Firefigher of the Year award. Assistant Chief, Dave Smith, captain Ken Burness and Firefighter/EMT Jennifer Parkhurst Smith were awarded years of service awards.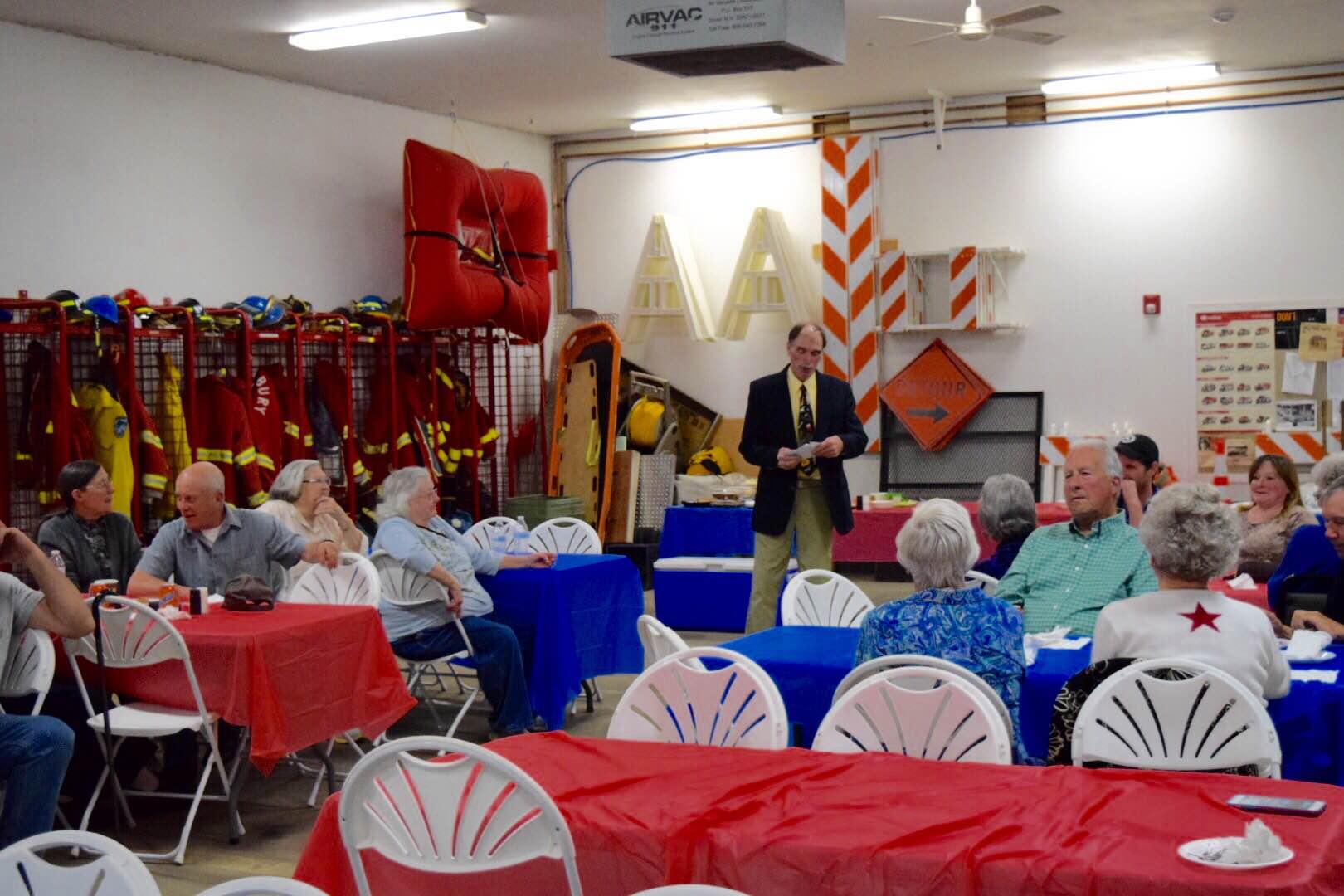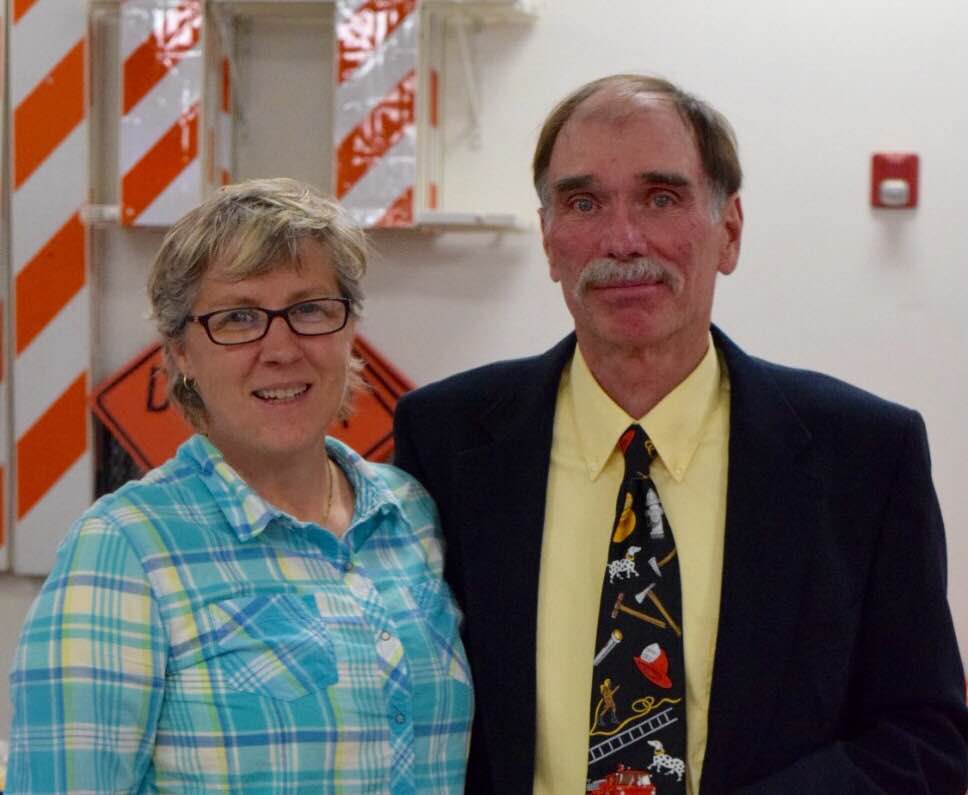 ---
Mutual Aid to Sunapee for motor vehicle crash
On Friday, May 20th Newbury Fire Rescue provided mutual aid assistance to the Sunapee Fire Department for a motor vehicle crash on Route 103 a half mile from the Newbury town line.
The occupants of both vehicles were trapped in the cars and had to be extricated using Sunapee's and Newbury's hydraulic rescue tools (jaws of life) two ambulances from New London Hospital assisted in providing care for the injured parties.
Two DHART medical helicopters landed on Route 103 (which was closed for over an hour) and both patients were transported by helicopter to the hospital.
---
Permits are Required for Fireworks in Newbury
The use of fireworks in the Town of Newbury is regulated by Town Ordinance. Fireworks permits are required and issued by the Newbury Fire Department under the conditions specified in the ordinance. The Newbury Fireworks Ordinance provides for fines of $250 per violation for anyone using fireworks in Newbury without a Fireworks Permit. There is no fee for a fireworks permit.
Fireworks Permit Requirements
The state law requires that only the property owners and individuals over 21 years of age with written permission of the property owner may display fireworks on a property. The New Hampshire Department of Safety requires a "Water Events Permit" for any fireworks displays that are displayed from a boat or raft over the water, and therefore a state permit is required for a Newbury Fireworks Permit to be issued for an over the water fireworks display. For a Fireworks permit to be issued the properly must be in compliance with the Newbury Street Numbering ordinance(see below).
The ordinance specifies a safety zone of 100 feet between the fireworks display and any structure or property lot line. Because of this requirement, a fire department inspection of the site where the fireworks are going to be displayed as well as the verification of street address numbering may be required before a permit will be issued.
Permits will not be issued in conditions of high fire danger when outside burn permits would not be issued or when the warden determines that conditions are not appropriate. Fireworks permits are issued for weekend and holiday evenings. Fireworks are not permitted in certain areas of Newbury and a permit cannot be issued for a location in one of these areas. Fireworks Permits will not be issued for fireworks displays after 10:00 PM, as the Newbury Public Conduct (Noise) Ordinance prohibits fireworks after that hour
Permits will be issued 24-48 hours prior to the fireworks display. An inspection of the display location may be required. Please allow sufficient time prior to the event to apply for and receive the fireworks permit.
Permits may be obtained at no charge from the Newbury Forest Fire Warden or Deputy Wardens.
Dave Smith, Forest Fire Warden 938-5925
Henry E. Thomas Jr., Fire Chief 344-9381 email: newburyc1@aol.com
Mike Croteau, Deputy Warden 763-2679
Wayne Whitford, Fire Prevention 748-1583 email: newburyfire@gmail.com

Applications for fireworks permits may completed on the Newbury Fire Department website using our online Fireworks Permit Application form (You will be contaced by phone to schedule a time for an inspection) Fireworks Permit Applications are also at the Newbury Police Department during business hours 8:00 AM to 1:00 PM Monday through Friday. Applications take 24 hours to process.
---
Permits are required for outside burning
See Outside burning section on Ordinance Page for outside burning regulations and information on applying for a Outside Burning Permit
Find out the Predicted Fire Danger for today from the NH Bureau of Forests and Lands
Fire Danger Definitions:
1 LOW: When the fire danger is "low" it means that fuels do not ignite easily from small embers, but a more intense heat source, such as lightning, may start fires in duff or dry rotten wood.
2 MODERATE: When the fire danger is "moderate" it means that fires can start from most accidental causes, but the number of fire starts is usually pretty low.
3 HIGH: When the fire danger is "high", fires can start easily from most causes and small fuels (such as grasses and needles) will ignite readily.
4 VERY HIGH: When the fire danger is "very high", fires will start easily from most causes. The fires will spread rapidly and have a quick increase in intensity, right after ignition.
5 EXTREME: When the fire danger is "extreme", fires of all types start quickly and burn intensely. All fires are potentially serious and can spread very quickly with intense burning.

For information on the outside burning rules, Download the NH DES Guide to Open Burning or the NH Division of Forests and Lands Outside Burning Brochure

Information on the permit requirements and the permits may be obtained at no charge from the Newbury Department or Newbury Forest Fire Warden or Deputy Wardens.
Henry Thomas Fire Chief, Newbury Fire Department 344-9381 e-mail: newburyc1@aol.com
Dave Smith, Forest Fire Warden 938-5925
Mike Croteau, Deputy Forest Fire Warden: 763-2679
---
---
Alarm Companies Need Permit to Install and Monitor Fire and Security Alarms in Newbury
Alarm companies that instll, service and monitor fire and security alarms at residences and businesses in the town of Newbury must have a permit from the Newbury Police and Fire Departments.There is no fee for the permit. The Newbury Alarm ordinance requires the permiting of security and fire alarms monitored by an alarm company central station. Under the ordinance, the company that installes, services or monitors an alarm must apply for an Alarm Company Permit.Under the ordinance, unpermitted alarm companies operating in Newbury are subject to a $100 fine.
Alarm Companies installing alarm systems must inform their customers of the town requirement for an alarm permit and that they can apply on the Newbury Fire department website. The alarm company must also notify the Newbury Fire Department in writing of the owner's name and address of the new alarm installation. The notification can be by fax (603)763-5379, completing the on-line form, or by email newburyfire@gmail.com
---
The Application for a Newbury Alarm Permit is now on line
There are now two ways to apply for a fire and security alarm permit in Newbury. The permit application can be completed online (click below in the Online Permit Application) and the application will be electronically submitted to the Town of Newbury. You will be contacted when the permit is issued. As in the past, you can still download and print the permit the application in a pdf file and fax to the Newbury Fire Department or drop off at the police department or town office during normal business hours. Please note that if you change alarm companies, a new alarm permit is required. Alarm permits can only be issued for alarm companies that are permitted by the Town of Newbury, applicants should verify that the alarm company has an Alarm Company Permit from the town.
The on line form can also be used to update your contact information, such as cell and work phone numbers and the names of local contacts that have access to your home if you cannot be reached. If your alarm permit is over two years old, you may need to update your information so that we have the correct phone numbers in an emergency.
The Town of Newbury Alarm Ordinance requires a permit for all business and residential central station fire and security alarms.
The Town of Newbury will access fines for central station alarm systems that do not have the alarm permits and for alarm systems that transmit multiple false alarms. Please see a summary of the ordinance on the Ordinance Page
Click here to fill out a Fire Alarm Permit online
Click here to download and print the Fire Alarm Permit Application The completed permit applications can be faxed to the Newbury Fire Department at 763-5379
---
Fire Prevention and Safety Information
Medical Oxygen Safety
Portable medical oxygen in the home has grown over the past decade. Medical oxygen adds a higher percentage of oxygen to the air a patient uses to breath. Fire needs oxygen to burn. If a fire should start in an oxygen-enriched area, the material burning will burn more quickly. Homes where medical oxygen is used need specific fire safety rules to keep people safe from fire and burns.
SAFETY TIPS
There is no safe way to smoke in the home when oxygen is in use. A patient on oxygen should not smoke.
Candles, matches, wood stoves and even sparking toys, can be ignition sources and should not be used in the home.
Keep oxygen cylinders at least five feet from a heat source, open flames or electrical devices.
Body oil, hand lotion and items containing oil and grease can easily ignite. Keep oil and grease away where oxygen is in use.
Never use aerosol sprays containing combustible materials near the oxygen.

Post No Smoking and No Open Flames signs in and outside the home to remind people not to smoke.

(Source: National Fire Protection Association)
---
Home Fire Extinguishers
As a general rule, firefighting should be left to the fire department.
Only adults who know how to use portable fire extinguishers should use them.
Before trying to fight a fire, make sure that everyone is leaving the house, someone is calling 9-1-1, the extinguisher is mounted on the wall close to your way out, the fire is not bigger than a small wastepaper can and you can get out.
Inspect portable extinguishers monthly and have them serviced annually.
Follow the manufacturer's instructions for placement and mounting height.
As a general rule, portable fire extinguishers for the home should have a rating of at least 2-A:10-B:C.

---
Newbury Fire Deparatment Apparatus
---
83 Engine 2
83-Engine 2 is a 1988 FMC Spartan Engine with a 1000 gpm pump and 1000 gallon tank which serves as the supply unit.
This truck carries 2,000 feet of 3 inch hose and 300 feet of 1 3/4 inch hose. In addition to fire hose, equipment carried on 83M2 includes 6 Self Contained Breathing Apparatus (SCBA), a 24 ft ladder, 14 ft roof ladder, portable fire extinguishers, foam equipment, portable lights and cable, medical equipment and other assorted tools and equipment.
Newbury Street Numbering Ordinance
Please keep in mind that the Town of Newbury Street Numbering Ordinance requires that every home and business in Newbury has a street address posted that is visible from the road. The reason for the ordinance was to assure that emergency responders would be able to locate a property in the event of a medical emergency, fire, or other emergency. This is a good time to take a look at your property from the road to confirm that the number can be seen. If you have difficulty, chances are that emergency responders will not see the address number and be delayed. "Help us to find you so we can help you in an emergency"
---
Knox Box
Newbury Fire & Rescue Department Knox Box Program
If you own a property in Newbury, are not always available to answer a call for a fire alarm at your property and do not have someone in the area that has a key to provide the Newbury Fire Department with access to your property. please consider installing a Knox Box.
The Newbury Fire & Rescue Department is part of the "Knox Box" program for emergency building access. A Knox Box is a secure key box containing building keys affixed to the outside of a business or home. If a fire alarm is received or there is a report of other emergency when the building us unoccupied, the fire department utilizes special fire department key, that will open the Knox Box containing the building keys. This eliminates the need to break down doors or windows to enter the building or presume there is no fire when nothing is visible from the outside. The ability to thoroughly inspect a building will enable the responders to locate other problems such as electrical hazards, heating problems and gas and water leaks set off an alarm and could lead to costly other problems if not identified. The Knox Box system is only used to enter a building in the event of a fire department emergency response to an alarm activation or report of an emergency at the location.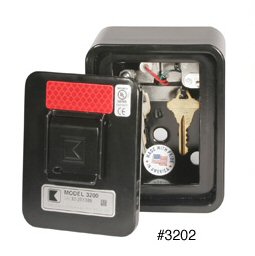 The fire department key is secured in special Knox Box on the truck that can only be opened by authorized personnel and all openings of the box are electronically recorded. Knox Boxes keyed to the Newbury system are purchased by the building owner from the Knox Box company and are installed in accordance with fire department specifications. Knox Boxes are generally installed at locations with Town of Newbury permitted central station fire alarm systems, where the Newbury Police and Fire Departments have emergency contact information. Building owners or their authorized emergency contacts are notified of every alarm notification and when the Knox Box is used to provide emergency personnel with access to the building. Emergency contact Information provided is kept confidential by the police and fire departments.
New commercial, multi-family (4+), seasonal residences and gated properties are required to have a Knox Box as part of the building permit process.
Information on the Knox Box system is available on the company's website www.knoxbox.com, For residential and small business use the Knox Residential 1650 Series surface mount box is used. Other models are available for larger businesses where multiple access keys may be needed, for new construction and other special requirements. Knox Boxes keted to the Newbury Fire Department system can be ordered on line from the Knox Box company Knoxbox.com and the Newbury Fire Department will be notified of your order and install the box when it is received. If you have questions, please contact the department at newburyfire@gmail.com
---
Get the NH Alerts App
NH Alerts is a free service provided by the New Hampshire Department of Safety Division of Homeland Security and Emergency Management. Emergency and community messages are initiated by authorized public safety officials at the State level and severe weather warnings are initiated directly by the National Weather Service.

The app delivers notifications to subscribers within a specific geographic area. If you are not receiving alerts through this application, you are not currently in an area identified with a potential public safety threat by the New Hampshire Department of Safety Division of Homeland Security and Emergency Management.

NH Alerts is used by New Hampshire public safety officials to inform and protect State residents and visitors. The NH Alerts app is free and available at the App Store and Google Play. No registration is required. Users are encouraged to enable their GPS services so the app can deliver location-based multimedia alerts to subscribers within a specific geographic area. Users may visit the NH Alerts app settings to select the alerts they would like to receive.

The app delivers notifications to subscribers within a specific geographic area. If you are not receiving alerts through this application, you are not currently in an area identified with a potential public safety threat by the New Hampshire Department of Safety Division of Homeland Security and Emergency Management.

Click here to go to the Ready NH.Gov NH Alerts website and to download the app
---
Weather Emergency Contact List
The Newbury Fire Department maintains a list of town residents who may live alone, do not have transportation, be elderly or disabled that the department will check on in the event of severe weather such as a blizzard, Ice storm or long duration power failure or other emergency impacting the Town of Newbury. The department is currently updating the list and adding new people who wish to be contacted.
Following a major storm, a telephone call is made to check on the well being of people on the list. If the person can't be reached by phone, a fire department member will go to the home to check on the person.
If you, a family member or neighbor would like contacted in a weather emergency by the Newbury Fire Department, please send an email with the person's name, address and phone number to newburyfire@gmail.com, Please indicate "Weather Emergency Contact List" in the subject of the email. This contact information remains confidential and is not shared with any other organization. Please email the Newbury Fire Department if you have questions.
---
Code Red
The Town of Newbury and five other towns in our area have contracted with the CodeRED reverse emergency notification system, which allows the town to call you in an emergency.
If you received telephone calls or voicemail messages from Code Red in the past, you are registered in the Code Red system and no additional action is needed. You will automatically receive future Code red messages.
The current CodeRED database comprises commercially-available phone numbers (such as those provided on credit applications) and numbers added directly by residents of the six communities. To ensure that your phone number (including cell phone) is in the database, go to your Town's website or click here to access the CodeRED Emergency Notification Network update form
Required information includes a street address (physical address, no P.O. boxes) for location purposes and at least a primary phone number. Additional phone numbers, email and text addresses may also be entered. Even if you have an unlisted phone number, you can safely register your phone number in the CodeRED database; the information will not be sold nor will it be used for any purpose other than emergency contact from the town.
If you do not have internet access, please call Patricia McDonald at the Town Office (763-4940 x201) and she will enter the information for you.
---
Fire Safety Information
---
The C-5 business meeting is the first Wednesday of each month at 6:30PM in the New London New London Fire department training Room.
---
Newbury Fire Department Resident Emergency Information Form In order to better serve the residents of Newbury in the event of a fire, medical or other emergency, the Newbury Fire Department is in process of updating the street listing information. Please complete the attached form for our emergency response database print and mail to the Newbury Fire Department PO Box 373, Newbury NH 03255. We plan to be able to submit the forms electronically in the near future.
---