Heating Safety Tips
Solid fuel-burning appliances shall be installed in a location and manner so as to provide ventilation and combustion air supply to allow proper combustion of fuel, chimney draft, and maintenance of safe temperatures
Solid fuel-burning appliances shall not be installed in any garage or any location where gasoline or any other flammable vapors or gases are present
A common hazard is the storage of combustible materials where they can be ignited by heat radiated by a furnace, stove, or other heating appliance.
Flues and smoke pipes can constitute a hazard; both should be kept in good condition and have adequate clearance from any combustibles
Flues should be cleaned annually and inspected for damage or holes. In addition, throughout the heating season, checks for creosote buildup in the flue pipe
To keep your wood- or pellet-burning system operating efficiently and safely, you'll need to maintain it on a regular basis. a certified chimney sweep should have the knowledge to help make sure your appliance, hearth, connecting pipe, air inlets, chimney, and all other components are functioning efficiently and safely
Apply appropriate precautions: keep children away from operating stove Provide proper spacing from upholstery, carpeting and furniture
---
The Application for a Newbury Alarm Permit is now on line

There are now two ways to apply for a fire and security alarm permit in Newbury. The permit application can be completed online (click below in the Online Permit Application) and the application will be electronically submitted to the Town of Newbury. You will be contacted when the permit is issued. As in the past, you can still download and print the permit the application in a pdf file and fax to the Newbury Fire Department or drop off at the police department or town office during normal business hours.Please note that if you change alarm companies, a new alarm permit is required

The on line form can also be used to update your contact information, such as cell and work phone numbers and the names of local contacts that have a ccess to your home if you cannot be reached. If your alarm permit is over two years old, you may need to update your information so that we have the correct phone numbers in an emergency.

The Town of Newbury Alarm Ordinance requires a permit for all business and residential central station fire and security alarms.

The Town of Newbury will access fines for central station alarm systems that do not have the alarm permits and for alarm systems that transmit multiple false alarms. Please see a summary of the ordinance below.

Click here to fill out a Fire Alarm Permit online
or
Click here to download and print the Fire Alarm Permit Application

Permit applications can be faxed to the Newbury Fire Department at 763-5379
---
Town of Newbury Alarm Ordinance Summary
All alarms installed in the town pursuant to this chapter shall conform to the standards set forth in state law, National Fire Protection Association (NFPA) 72 National Fire Alarm Code, the National Electrical Code and the codes published by the International Building Code (IBC). Permitted central stations shall comply with NFPA 71.
Alarm Permit Required
The Newbury Police and Fire Chiefs are authorized to issue a permit to any owner of property located within the town or the lessee thereof to maintain, install and modify a fire, burglary, holdup or intrusion alarm system upon application.
Applicants for alarm permits shall have and agree to maintain street addrss signs on the property that are visiable from the street as required by town ordinance.
Dialer-type alarms that are operated by a prerecorded message machine are not authorized to be used at the police and fire departments. Alarms which monitor temperature, humidity and any other condition not directly related to the detection or notification of emergency personnel are specifically excluded from this chapter.
Applications for Security and Fire Alarm Permits and Central Station Company permits shall be submitted to the Newbury Police Department, 952 Route 103, Newbury, NH 03255. Application forms are available at the Police Department, Town Office and may be downloaded from the Town of Newbury Website www.newburynh.org.
There shall be no fee for the alarm system installation permit issued by the police and fire departments.
Any owner or lessee of property having an alarm system on the premises and any user of alarm services or equipment designed and installed with the intent of eliciting an emergency response shall pay to the town a service charge as set scheduled below.
Any central station, answering service or proprietary system that in any manner notifies the police or fire departments of an alarm signal from an alarm system of an alarm user who does not possess an alarm user's permit or whose permit has been suspended, revoked or denied shall be charged a penalty as listed below. Penalties, for each notification made to the town.
Penalties
Penalties for violations of the Fire Alarm Ordinance shall be as follows:
(1) Operating an alarm without a valid permit . . . $100.00
(2) Operating an alarm when a permit has been suspended or revoked . . . $100.00
(3) False alarm penalties Fire Alarms
Any owner or lessee or person in control of property having an alarm system on the premises and any user of alarm services or equipment designed and installed with the intent of eliciting an emergency response shall pay to the town a service charge of $250.00 for each and every false alarm to which the fire department responds after the initial response within a seven-day period. It shall be the responsibility of the property owner to correct any and all problems resulting in the activation of false alarms
Fourth false fire alarm in a year . . . $100.00
Fifth false fire alarm in a year. …. . $200.00
Sixth and successive false fire alarms in a year . . . $300.00
(4) Central Station, answering service or proprietary system notification of an alarm not possessing a valid permit . . . $100.00
Click here for full Town of Newbury Fire Alarm Ordinance

State of New Hampshire Outside Burning Regulations
Outside Burning
The main causes of wildfires in New Hampshire are illegal or improperly extinguished fires.
Per RSA 227-L:17, the state of New Hampshire requires anyone who wishes to burn clean, ordinary combustibles such as leaves, brush or untreated lumber, or have a camp or cooking fire to have written permission from the landowner and a written fire permit from the local forest fire warden or local fire department in the town or city where the fire will be kindled.
What time can a fire be kindled?
Fires may only be kindled after 5:00 p.m. and must be extinguished before 9:00 a.m.
There are two exemptions to this:
1: When the Forest Fire Warden determines that conditions are appropriate Category I (Campfire) permits may allow for a small (under 2 foot diameter) fire to be burned during the day.
2: When there is continuous rain fall, however, the fire must be extinguished when the rain stops and depending on what town you are burning in, there may be some variances to these times. A Fire Permit is still required when it is raining.
What can be burned?
Clean, untreated wood and brush.
Material must be no greater than 5 inches in diameter.

What cannot be burned?
Combustible domestic waste as defined by RSA-125N, including, but not limited to:
Household trash
Packaging Material
Plastic
Coated or laminated paper
Rubber
Painted or treated wood
Coated or treated cardboard
Oily rags
Animal, vegetable and kitchen waste
Treated wood or composite materials
Gas Grills or charcoal fires up off the ground on your own property do not require a fire permit. Fire pits, chimineas, outside fireplaces and other wood fires do require a permit from the forest fire warden. Seasonal permits outside fireplaces and fire pits are issued for one year only, please contact the forest fire warden for your 2015 seasonal fire permit now.
Information on the permit requirements and the permits may be obtained at no charge from the Newbury Department or Newbury Forest Fire Warden or Deputy Wardens.
Henry Thomas Fire Chief, Newbury Fire Department 344-9381 e-mail: newburyc1@aol.com
Dave Smith, Forest Fire Warden 938-5925
Mike Croteau, Deputy Forest Fire Warden 763-2679
For complete information on the State of New Hampshire outside burning requirements, click here for the Department of Forest and Lands website
.
Download the NH Forests & Lands Outside Burning Brochure
Newbury Fireworks Regulations & Information
Permits are Required for Fireworks in Newbury
The use of fireworks in the Town of Newbury is regulated by Town Ordinance. Fireworks permits are required and issued by the Newbury Fire Department under the conditions specified in the ordinance. The Newbury Fireworks Ordinance provides for fines of $250 per violation for anyone using fireworks in Newbury without a Fireworks Permit. There is no fee for a fireworks permit.
Because of public input at the Newbury Town Meeting and other public meetings, the Newbury Fire Department is increasing its focus on the enforcement of the Fireworks Ordinance. Individuals who do not obtain the required permit and those who do not follow the requirements of the ordinance, which does not permit fireworks after 10:00 PM will be subject to the fine. In many cases the Newbury Fire Department is not informed of the illegal fireworks activity. To improve communications, we are continuing the policy of posting the address of permitted fireworks on the website. A new reporting form is now available on the website that lets residents report unpermitted fireworks directly to the Newbury Fire Department. All of the reports received will be investigated and a listing will be set up to focus on areas of repeated fireworks ordinance violations. Please use this form to report fireworks displays (not posted as having a permit) in your neighborhood.
A listing of the addresses of the fireworks permits that have been issued will be posted on this website and at the Safety Services Building. Fireworks displays that are not listed have not been permitted and should be reported using the Unpermitted Fireworks Reporting form.
This form is for fire department investigations only, fireworks hazards and emergencies should be reported by calling 911. No fireworks displays are permitted after 10:00 PM, please use this form to inform the fire department of late night displays.
Questions and comments on fireworks and the reporting form may be emailed to the Newbury Fire Department email: newburyfire@gmail.com
Fireworks Permit Requirements
The state law requires that only the property owners and individuals over 21 years of age with written permission of the property owner may display fireworks on a property. The New Hampshire Department of Safety requires a "Water Events Permit" for any fireworks displays that are displayed from a boat or raft over the water, and therefore a state permit is required for a Newbury Fireworks Permit to be issued for an over the water fireworks display. For a Fireworks permit to be issued the properly must be in compliance with the Newbury Street Numbering ordinance(see below).
The ordinance specifies a safety zone of 100 feet between the fireworks display and any structure or property lot line. Because of this requirement, a fire department inspection of the site where the fireworks are going to be displayed as well as the verification of street address numbering may be required before a permit will be issued.
Permits will not be issued in conditions of high fire danger when outside burn permits would not be issued or when the warden determines that conditions are not appropriate. Fireworks permits are issued for weekend and holiday evenings. Fireworks are not permitted in certain areas of Newbury and a permit cannot be issued for a location in one of these areas. Fireworks Permits will not be issued for fireworks displays after 10:00 PM, as the Newbury Public Conduct (Noise) Ordinance prohibits fireworks after that hour
Permits will be issued 24-48 hours prior to the fireworks display. An inspection of the display location may be required. Please allow sufficient time prior to the event to apply for and receive the fireworks permit.
Permits may be obtained at no charge from the Newbury Forest Fire Warden or Deputy Wardens.
Dave Smith, Forest Fire Warden 938-5925
Henry E. Thomas Jr., Fire Chief 344-9381 email: newburyc1@aol.com
Ken Burnell, Deputy Warden763-4962
Mike Croteau, Deputy Warden763-2679

Applications for fireworks permits may completed on the Newbury Fire Department website using our online Fireworks Permit Application form (You will be contaced by phone to schedule a time for an inspection) Fireworks Permit Applications are also at the Newbury Police Department during business hours 8:00 AM to 1:00 PM Monday through Friday. Applications take 24 hours to process.
---
Town of Newbury Information
John Mike Croteau Receives 2015 Fire Service Lifetime Achievement New Hampshire Police, Fire, & EMS Foundation for
Chief John "Mike" Croteau was nominated by the Newbury Town Administrator Dennis J. Pavlicek, Fire Chief Henry Thomas and the Newbury Fire Department.
Chief Croteau is a native and lifelong resident of Newbury. Chief Croteau started working at the Newbury Fire Department in 1945 at 15 years of age, a mere 70 years ago. At that time, his dad was the fire chief, and Chief Mike's main responsibility was to make sure that the cinders from the trains going to and from the Concord to Claremont line bringing tourists to Lake Sunapee didn't catch the blueberry bushes on fire. While working for the Newbury Fire department all those years, continuing on through the ranks to become the Newbury Fire Chief, just as his dad was, Chief Croteau was also a longtime employee of the State of NH Department of Transportation where he worked as an engineer. Chief Croteau also served in the position as Forest Fire Warden, with many people believing he knew "Smokey" when he was just a young bear! Chief Croteau's experience as an Engineer came into play whenever any town building work needed to be done, the Town called upon Mike to do the site work and designs.
Chief Croteau has been very involved with fundraising for the Fire Department. You could find Chief Croteau calling out numbers for many years as the Department held bingo during the summers, as well as doing whatever was necessary to make it a success. In recent years, the department holds an annual auction with Chief Mike stepping up to help out as a runner.
Forty years in a profession is an amazing feat, but seventy years makes Chief Croteau a legend. Chief Croteau has been an active Newbury Firefighter for seven decades, and is out every day with the department going on calls.
Chief Croteauu has volunteered for many town groups, boards, activities, and pitches in when something needs to be done.
Chief Croteau really enjoys sharing his stories and experiences with new members of the department. His easygoing manner is reassuring to his fellow firefighters when they need him. He is definitely a role model to all the new members. When you think of Chief Mike Croteau, dedication would be one of the first things that come to mind.
It is with great pride that the NH Police, Fire & EMS Foundation presents Chief, John "Mike" Croteau with a 2015 Lifetime Firefighter Achievement Award!
---
Knox Box
Newbury Fire & Rescue Department Knox Box Program
The Newbury Fire & Rescue Department is part of the "Knox Box" program for emergency building access. A Knox Box is a secure key box containing building keys affixed to the outside of a business or home. If a fire alarm is received or there is a report of other emergency when the building us unoccupied, the fire department utilizes special fire department key, that will open the Knox Box containing the building keys. This eliminates the need to break down doors or windows to enter the building or presume there is no fire when nothing is visible from the outside. The ability to thoroughly inspect a building will enable the responders to locate other problems such as electrical hazards, heating problems and gas and water leaks set off an alarm and could lead to costly other problems if not identified. The Knox Box system is only used to enter a building in the event of a fire department emergency response to an alarm activation or report of an emergency at the location.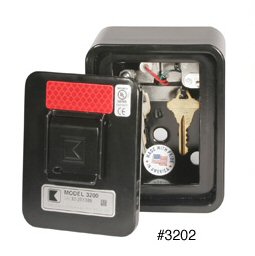 The fire department key is secured in special Knox Box on the truck that can only be opened by authorized personnel and all openings of the box are electronically recorded. Knox Boxes keyed to the Newbury system are purchased by the building owner from the Knox Box company and are installed in accordance with fire department specifications. Knox Boxes are generally installed at locations with Town of Newbury permitted central station fire alarm systems, where the Newbury Police and Fire Departments have emergency contact information. Building owners or their authorized emergency contacts are notified of every alarm notification and when the Knox Box is used to provide emergency personnel with access to the building. Emergency contact Information provided is kept confidential by the police and fire departments.
New commercial, multi-family (4+), seasonal residences and gated properties are required to have a Knox Box as part of the building permit process.
Information on the Knox Box system is available on the company's website www.knoxbox.com, For residential and small business use the Knox Residential 1650 Series surface mount box is used. Other models are available for larger businesses where multiple access keys may be needed, for new construction and other special requirements. Knox Boxes keted to the Newbury Fire Department system can be ordered on line from the Knox Box company Knoxbox.com and the Newbury Fire Department will be notified of your order and install the box when it is received. If you have questions, please contact the department at newburyfire@gmail.com
---
Town of Newbury Street Numbering Ordinance
Street Numbering
As we think about cleaning up our yards from the severe winter, this is a good time to take a look at the street address sign on our property. Is the address sign still visible from the road? With the harsh winter, trees or branches may now be blocking the address sign, which is a critical element in enabling the first responders to find your home in a fire or medical emergency. Newbury town ordinance specifies that all buildings must have a street address sign that can be seen from the road. This is a good time to take a look and possibly replace an old sign.
---
All buildings in the Town of Newbury shall have the street address number of the building posted in a location that is clearly visible from the road during all seasons of the year. For buildings not readily visible from the street the assigned street number(s) shall be conspicuously displayed at the point of entry to the property. Street address numbers posted on mail boxes meet the requirement of this ordinance if the mail box is on the same side of the street as the building and is located in close proximity of the driveway to the building. Numbers placed on mailboxes shall be visible from both directions of travel and in accordance with the U.S. Postal Service requirements.
These numbers will be at least four inches high and in a contrasting color from the background or shall be reflective so that they can be seen during hours of darkness with the lights on emergency vehicles. Buildings on corner lots shall have an address number visible from the street that the building is addressed on.
The issuance of approvals and permits by town boards and commissions, Town of Newbury Code Enforcement Officer, Health Officer, Fire Department, Police Department, Highway Department and Town Clerk shall be subject to the property owner's compliance with the Street Numbering Ordinance.
All new or substantially renovated commercial, institutional (including educational, nursing, child and elderly care facilities), places of assembly, seasonal residential and multi-family (4+) residential buildings with common secured access doors and buildings with automatic fire sprinkler systems constructed after the effective date of this ordinance shall be equipped with a Knox Box prior to the occupancy permit. Other residential properties are encouraged but not required to have a Knox Box installed.
Notices of Violation for non-compliance with the Street Numbering Ordinance shall be issued by the Newbury Police Department, Newbury Fire Department, Code Enforcement Officer or Highway Administrator.
Any person who violates a provision of the Street Numbering Ordinance shall be guilty of a violation for each offense. A notice of violation shall be issued to the issued to the property owner providing 30 days from the date of notice to bring the property into compliance with the Street Numbering Ordinance.
After 30 days of the violation the property will be re-inspected. A finding of continued non-compliance shall be subject to a fine of Twenty Five Dollars ($25.00) for the violation.
After 60 days of non-compliance am additional fine of Fifty Dollars ($50.00) will be levied.
Any property owner who shall affix or display upon a structure any number other than that assigned to or pursuant to this ordinance shall be guilty of a violation penalty of Twenty Five Dollars ($25.00)
Please send questions on the requirements of the Street Numbering Ordinance to the Newbury Fire department at newburyfire@gmail.com
Fire Prevention and Safety Information
Get the NH Alerts App
NH Alerts is a free service provided by the New Hampshire Department of Safety Division of Homeland Security and Emergency Management. Emergency and community messages are initiated by authorized public safety officials at the State level and severe weather warnings are initiated directly by the National Weather Service.

The app delivers notifications to subscribers within a specific geographic area. If you are not receiving alerts through this application, you are not currently in an area identified with a potential public safety threat by the New Hampshire Department of Safety Division of Homeland Security and Emergency Management.

NH Alerts is used by New Hampshire public safety officials to inform and protect State residents and visitors. The NH Alerts app is free and available at the App Store and Google Play. No registration is required. Users are encouraged to enable their GPS services so the app can deliver location-based multimedia alerts to subscribers within a specific geographic area. Users may visit the NH Alerts app settings to select the alerts they would like to receive.

The app delivers notifications to subscribers within a specific geographic area. If you are not receiving alerts through this application, you are not currently in an area identified with a potential public safety threat by the New Hampshire Department of Safety Division of Homeland Security and Emergency Management.

Click here to go to the Ready NH.Gov NH Alerts website and to download the app
---
Newbury Fire Deparatment Apparatus
83 Engine 3
83-Engine 3 is a 2000 Freightliner with 1500 gallon pump and a 1500 gallon tank which serves as the primary mutual aid unit and second response engine.
This unit carries 1,000 feet of 3 inch hose, 250 feet of 1 3/4 inch hose and 100 feet of 2 1/2 inch foam hose. In addition to fire hose, equipment carried on 83M3 includes 8 Self Contained Breathing Apparatus (SCBA), a 35 ft ladder, 14 ft roof ladder and folding attic ladder, portable fire extinguishers, air bags, exhaust fan, chain saw, portable lights and cable, medical equipment, hydraulic rescue tools and other assorted tools and equipment.
---
Code Red
The Town of Newbury and five other towns in our area have contracted with the CodeRED reverse emergency notification system, which allows the town to call you in an emergency.
If you received telephone calls or voicemail messages from Code Red in the past, you are registered in the Code Red system and no additional action is needed. You will automatically receive future Code red messages.
The current CodeRED database comprises commercially-available phone numbers (such as those provided on credit applications) and numbers added directly by residents of the six communities. To ensure that your phone number (including cell phone) is in the database, go to your Town's website or click here to access the CodeRED Emergency Notification Network update form
Required information includes a street address (physical address, no P.O. boxes) for location purposes and at least a primary phone number. Additional phone numbers, email and text addresses may also be entered. Even if you have an unlisted phone number, you can safely register your phone number in the CodeRED database; the information will not be sold nor will it be used for any purpose other than emergency contact from the town.
If you do not have internet access, please call Patricia McDonald at the Town Office (763-4940 x201) and she will enter the information for you.
---
Fire Safety Information
Home Fire Sprinklers Save Lives
Fire Safety and Prevention Fact Sheets


---
---
The C-5 business meeting is the first Wednesday of each month at 6:30PM in the New London Hospital Weber Conference Room.
---
Upcoming EMS Classes Sponsored by New London Hospital


TEMSIS Elite Training session, Wednesday, December 2, 6:00PM-8:00PM at New London Fire Department

Contact Pam Drewniak at 526-5501 for information

---
Newbury Fire Department Resident Emergency Information Form In order to better serve the residents of Newbury in the event of a fire, medical or other emergency, the Newbury Fire Department is in process of updating the street listing information. Please complete the attached form for our emergency response database print and mail to the Newbury Fire Department PO Box 373, Newbury NH 03255. We plan to be able to submit the forms electronically in the near future.
---